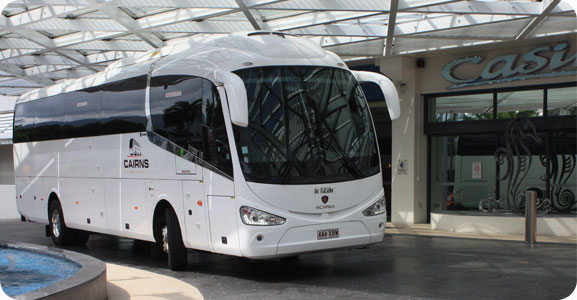 Cairns Luxury Coaches
Cairns Luxury Coaches has been operating in Cairns for ten years. Local owner Peter has twenty years experience in the transport industry and started Cairns Luxury Coaches with the goal to be the premier provider of custom transport and tours in Cairns. Ten years later, Cairns Luxury Coaches is enjoying the reputation of concierge level service when it comes to customising your event transportation. Whether you have a couple of passengers or need to transport dozens of people our friendly team will help you from beginning to end.
Our Drivers
All of our drivers are licensed and hand-selected for their attention to customer service and friendliness. Each are trained extensively in route management, and are knowledgeable about Cairns and the surrounding area.
If you have questions while you are on the bus please do not hesitate to ask. Our drivers are happy to share their knowledge of local gems with all of our clients.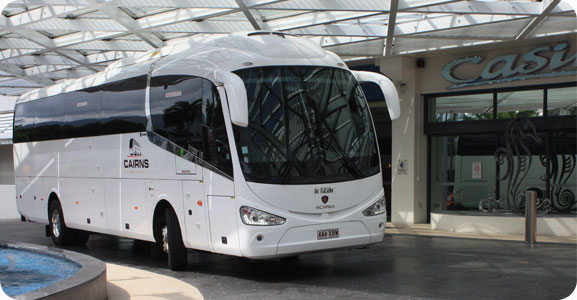 Our Logistics Staff
The logistics staff at Cairns are all trained in event management and planning. They are happy to make suggestions for event venues, dining options, hotel accommodations, entertainment options, and more.
Their focus is always on the client and making sure that events run smoothly from arrival to departure.
Our Promise
No request is too big or too small for our team. If it matters to you, it matters to us.
Let us make your travel perfect.
At Cairns Luxury Coaches
At Cairns Luxury Coaches we believe that the success of our clients is also our success. We build our company around a solid belief that "We are service excellence-driven providers".
Our Vision
To be recognised as an exceptional, reliable, and efficient transportation and chauffeur provider in Queensland or wherever our clients need us.
Our Mission
We work together with our people and clients to provide world-class transportation and chauffeur solutions to achieve service excellence.
Quality
We work hard to provide the highest quality for our clients that meet and exceed their expectations, as well as to present our clients with new, innovative and creative ideas and services.
Service Excellence
CLC gains its competitive advantage in the region through delivering high-quality transportation & chauffeur services and adapting continuous improvement, thereby maintaining outstanding performance.
Client-Focused
We are committed to exceeding our clients' expectations, as well as striving to establish and maintain long-term relationships. In fact, we are client-focused: "We start with what the client needs."
Efficiency
Cairns Luxury Coaches view on efficiency spans across all layers of the organization. Efficiency is a key contributor to the success of CLC and its ability to deliver on its promise.
Teamwork
We recognize that success is dependent upon the collective energy and skill of our people, which means they are a key to our success.
Professionalism
We behave in a professional & ethical manner as we show respect to local customs and culture, as long as we do not compromise our professionalism & ethics.